Water Avenue Coffee
Americano Mondays visits the Pacific Northwest
In late January I visited both Portland and Seattle in the hope of continuing to expand this project beyond my home base of Los Angeles. The Pacific Northwest is highly regarded as the epicenter of American coffee culture and I felt their story needed to be apart of this series. I have visited both cities before and once photographed an underground coffee shop in Port Townsend, WA during a vacation with my wife. But I still felt that I had only experienced a limited view of the coffee scene and was excited for the opportunity to explore it with purpose.
With that in mind, I did what all rational creatives do while working on a personal project: I booked my flight before even confirming a single location. Hey…deadlines have been proven to be the best form of motivation.
And yet, the response from the coffee community was overwhelming
Almost every cafe I reached out to not only said yes, but they were excited to be apart of the series. So with that, I packed my camera and jacket and flew up north with two goals in mind: Drink amazing coffee and capture new content for this series. Done and done.
The first cafe that I photographed was Water Avenue Coffee. I had visited them once before on vacation with my wife so I thought it was a good place to start.
The cafe was opened in 2009 by father and son Bruce and Matt Milletto along with Brandon Smyth. These three gentlemen had already made a name for themselves in coffee, long before opening the doors. Bruce founded the Bellissimo Coffee InfoGroup and the American Barista and Coffee School and has been in the industry for over 25 years. Matt founded Baristaexchange.com and has been in the industry for 18 years. And over the past 12 years, Brandon has become a well respected roaster. So yeah, they know what's up.
During my time there I had a great conversation with Brandon Smyth about his travels to the farms in El Salvador where they source their beans. As we spoke, he was testing out a small batch of beans he hand picked on his last trip and was working them through the sample roaster. This was the first time I witnessed someone using a small, sample roaster to set the parameters for the larger batches that would be used on the full sized roasters. It was cool to watch.
We covered numerous topics during our discussion and after hearing of his travels I mentioned that my wife is of El Salvadoran descent. Then, in a gesture I won't soon forget, he gifted me with a small 1/4 pound bag of beans from the batch he hand picked in El Salvador to take home to my wife. That meant a lot and I was more than honored to bring that back to LA to share with my wife.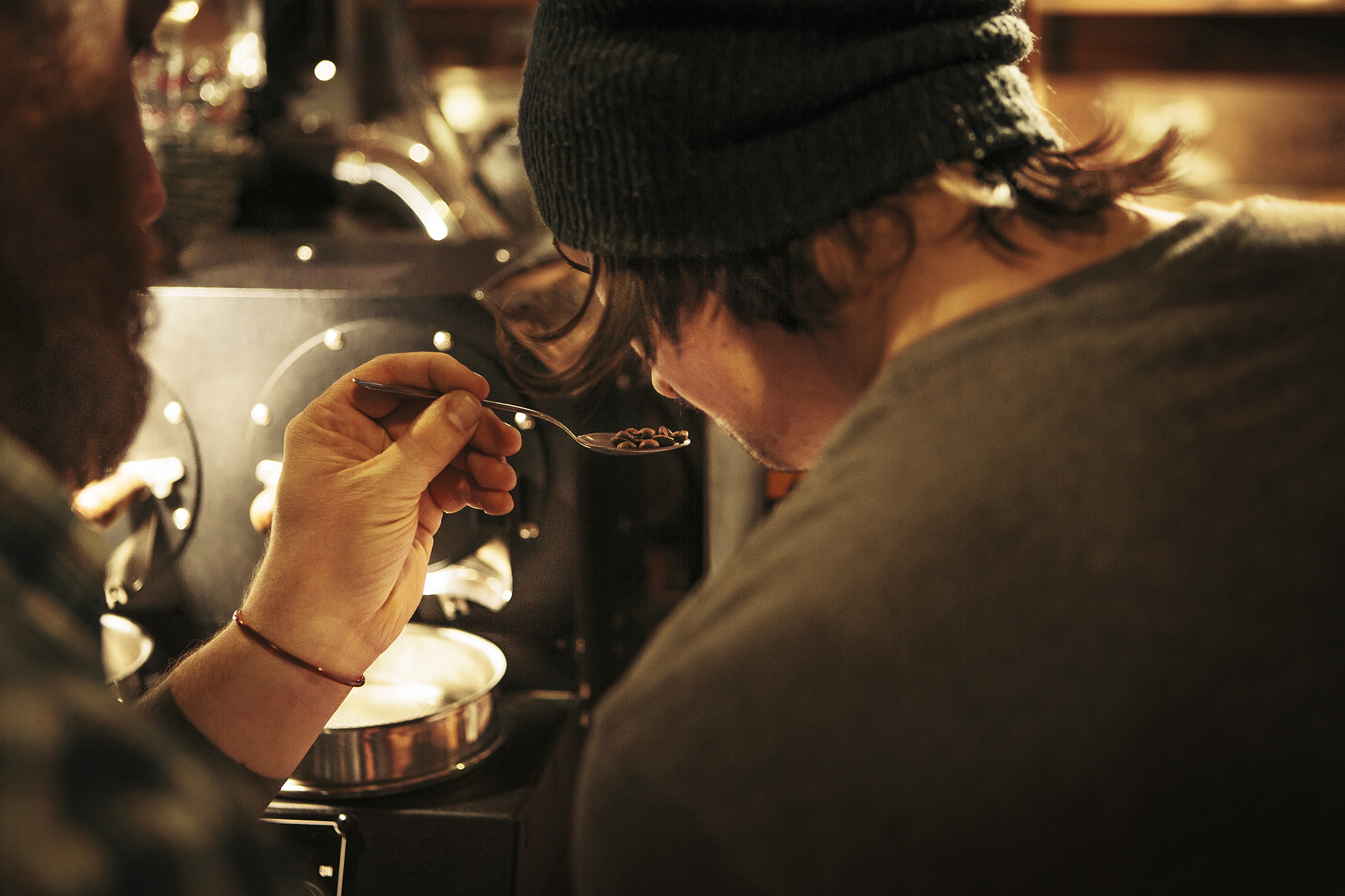 I also had the opportunity to spend some time with Bruce Milletto. Not only do we share a love for coffee but also for photography. He's had the luxury of traveling a great amount in his life and has some wonderful stories that would make any photographer jealous. Especially his tales of shooting in Italy.
He also showed me around the American Barista and Coffee School which is located in the same building as their coffee shop. Let's put it this way, if you're a coffee nerd like me, you would freak out at their main school room. They're probably rockin' 15-20 espresso machines as well as every other method of making coffee available. Im actually tempted to attend a course there one day.
If you're in Portland, hit them up here.